Seed Cycling Recipe E-Book
We know seed cycling can be hard to stick to sometimes. And what better way to encourage you to keep up with your seed cycling habit than to turn your daily dose into a delicious snack or meal.
Our seed cycling recipe book helps you to integrate your Seed Cycle Blend into a variety of breakfast and snack options to make Seed Cycling easy and fun. Each seed cycling recipe requires only 5-10 minutes to prep and sometimes only a minute to make.

Most ingredients can be found in your cupboard and most recipes can be altered to your liking. Enjoy!
The Seed Cycle Blend Set includes what you need for your monthly cycle. You get a pack of FOL blend which covers the first half of your monthly cycle. This blend regulates the primary hormone estrogen which helps to ease painful symptoms. The second included pack is our LUT blend, for the second half of your cycle. This blend targets the hormone progesterone that helps you to feel relaxed and balanced before your period. Taken daily, you'll notice significant improvements in your menstrual health, allowing you to love your cycle.
Seed Cycling Recipe E-Book
Customer Reviews
19/04/2021
Sonia

New Zealand
I recommend this product
Amazing for easy seed cycling
The Seed Cycle Blend recipe book is essentially a set of recipes that are quick and easy, and incorporate seed cycling blends. All of the recipes can be prepared in about ten minutes, which I love, since I can make them whenever I want or when I have a little bit of spare time. The e-book is really clean and simple, with beautiful photos, and a great layout that makes the recipes easy to follow. A really unique feature of this e-book is that it also includes a guide to build your own recipe where you can use any ingredients you have at home and the possibilities are endless. My absolute favourite recipe was the seed cycling pesto, which was simply amazing, so quick to make, and I was able to add it to any of my meals (salads, pasta, etc.) and it just worked so well. For the pesto I had to add a little bit more olive oil than the recipe called for, but overall the recipes can be easily adjusted to suit personal preferences. The e-book has some great recipes for seed cycling on the go, like the Lut and lemon bliss balls, which I love making on a Sunday and storing them for the week, so that I never forget my seed cycling anymore. Essentially, using the recipe book, I was able to prepare food that included my seed blends ahead of time, and so I was able to stay consistent with seed cycling, which is when I see the best results.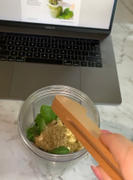 What is Seed Cycling
Seed cycling is a nutritional protocol of rotating specific seeds for two main phases of the cycle. With daily use - the key nutrients in these seeds help to regulate cycle hormones.
A blend of science and ritual
The daily ritual of taking Seed Cycle Blend in sync with hormone fluctuations is just as important as the key nutrients themselves.
We have worked with nutritionists and naturopathic doctors to ensure a perfect balance between nutritional benefits and holistic cycle care.
Sustainable Packaging
At Seed Cycle Blend sustainability is a guiding principle in everything we do. For that reason we use home compostable bags and 100% recyclable packaging. We want to sustain the health of the planet whilst helping to sustain the health of cycles.